Delivered in the morning

Fresh from the best local bakers

Top quality for a fair price

Buy now pay afterwards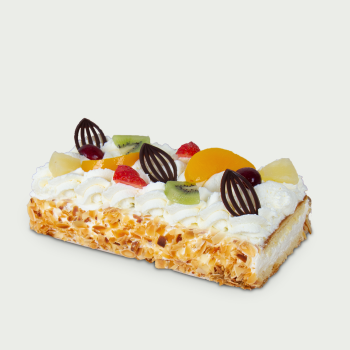 A small company, but you want something delicious on the table anyway? Then try this delicious cream schnitte, decorated with fresh fruit, chocolate galettes and real whipped cream. A tasty surprise for everyone!
Order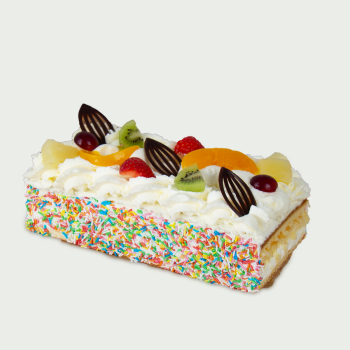 Whipped cream Schnitte festive
There is always something to celebrate and of course the best way to do that is with a festive schnitzel! This cheerful treat is prepared according to traditional methods and decorated with fresh fruit, chocolate galettes and colored sprinkles. The eye-catcher for every party!
Order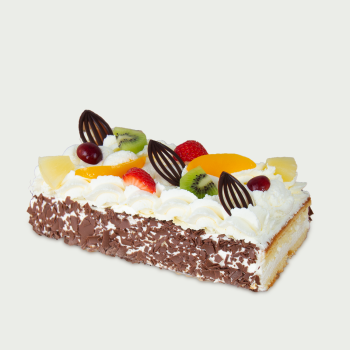 Whipped cream Schnitte chocolate
A birthday, an anniversary or just any occasion. The delicious whipped cream schnitzel with chocolate flakes is truly for any occasion! To make the party complete, the schnitte is topped off with fresh fruit and chocolate galettes.
Order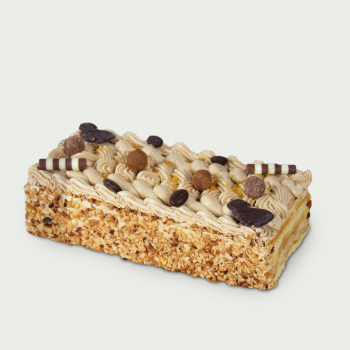 This tasty mocha schnitzel is the perfect treat for your party.
Order
Ordering schnitte online
The address for your schnitte when you have a party to give or want to surprise someone is Toptaarten.nl. Here you can choose from 160 bakers, so there is always a baker near you for a schnitte made the traditional way.
What is a schnitte?
Most cakes have a round shape. This makes it not always convenient to cut the cake. Especially if the top layer is made of whipped cream, dividing the cake into equal pieces can cause a lot of trouble. With a schnitte you don't have this problem because the shape is rectangular and therefore easier to cut. For this reason alone, the schnitte is particularly popular in the Netherlands.
Assortment
The schnitte assortment of Toptaarten.nl is wide. Go for a birthday schnitte for your son's birthday next week! Or for a schnitte with mocha for your sister because she loves mocha! You can also choose from a schnitte with fresh fruit, a whipped cream schnitte decorated with delicious nuts or chocolates. In addition, choose to add a personalized card to the schnitte with a heartwarming, funny or just a fun message for the recipient.
Ordering schnitte
If you want to order a schnitte, first choose from our assortment. Then fill in your details for delivery and choose a delivery date. The schnitte will be delivered on the specified date. Moreover, you choose whether you want to pay directly online or only after the delivery of the cake.
Ordering a schnitte at Toptaarten.nl is fast and easy. Moreover, you will enjoy many benefits:
A schnitte that is made the traditional way
Delivered at home in the morning
Fresh from local bakers
Wide choice of different types of schnitte
Fair price
Pay afterwards
Choose Toptaarten.nl
Toptaarten.nl has a schnitte for every occasion. You can order a traditional schnitte made with the best ingredients from the comfort of your couch. Moreover, you can also have it delivered. You will receive your schnitte quickly and as icing on the cake you can choose to pay afterwards. Surprise yourself or someone else and order at Toptaarten.nl!
Read more