Delivered in the morning

Fresh from the best local bakers

Top quality for a fair price

Buy now pay afterwards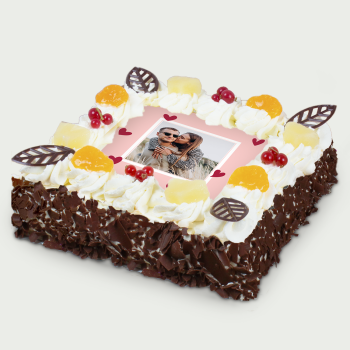 Make this Valentine's Day unforgettable with a delicious photo cake! Choose the most beautiful photo of you and your Valentine and place it together with a personal text on the cake. This is the only way to really surprise your Valentine!
Order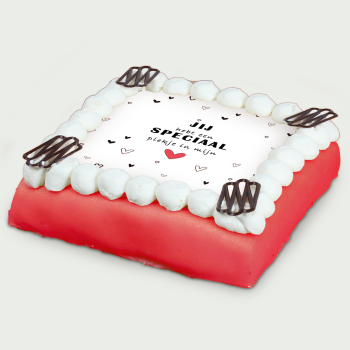 You have a special place in my heart
From
You have a special place in my heart. That's the loving message you send with this delicious marzipan cake. Filled with airy cake, real whipped cream and topped with a delectable layer of marzipan.
Order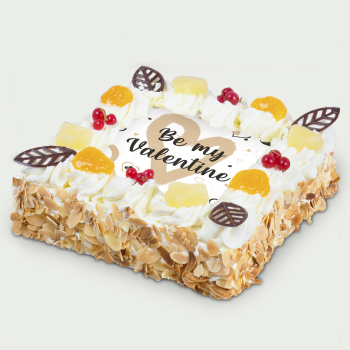 Cream cake Valentine
From
The best way to declare your love this Valentine's Day; the Valentine whipped cream cake! Enjoy real whipped cream, airy cake and delicious jam together. Topped off with chocolate galletes and fresh seasonal fruit.
Order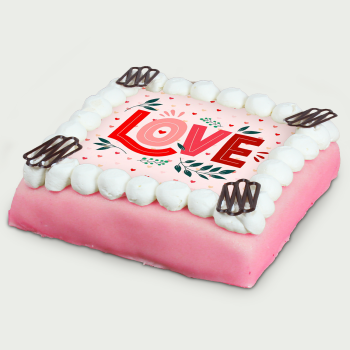 Surprise your Valentine in a special way this year with a delicious marzipan cake. Real whipped cream, jam, light cake, pink marzipan, who wouldn't want that? The cake is handmade and delivered by the local bakery.
Order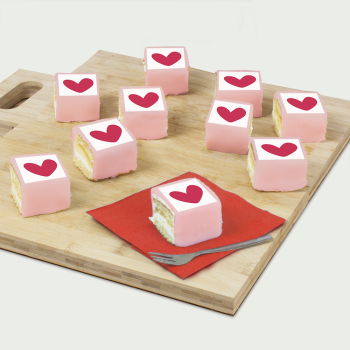 Share some love with these delicious heart petit fours! Valentine's Day is not just about love for your partner, but also for your parents, children, friends or colleagues, for example. The petit fours are a treat that are sure to please everyone. Who will you surprise today?
Order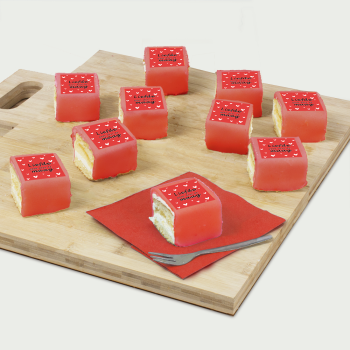 Pastries Liefde gaat door de maag
Love goes through the stomach and that is certainly true with a delicious petit fourtje! These red pastries are ideal to hand out to your Valentine, but also for example to family, friends or colleagues. This way it will be an unforgettable Valentine's Day for everyone!
Order
Ordering a delicious Valentine's cake
A Valentine cake is a delicious cake that will really surprise your partner. Through Toptaarten.nl you can easily choose a delicious Valentine's cake that you can order. You can choose from a wide variety of cakes. There is guaranteed to be a cake that you and your loved one will like. Whatever Valentine cake you are going to order, this is guaranteed to be a tasty treat.
A tasty Valentine's Day cake from the local bakery
Valentine's Day is a day when we celebrate love, but the love of most men and women actually goes through the stomach, doesn't it? That's why a valentine's cake is the perfect gift for your valentine. Would you like a cake of baking quality? Then the best way to order your Valentine cake is through Toptaarten.nl. The local baker in your area will work for you to create a tasteful cake that will make you lick your fingers. Then the baker will personally deliver your cake to the recipient. Your loved one will be pleasantly surprised when he/she opens the front door and sees a beautiful Valentine's cake!
Delivering a Valentine's cake
Do you want to order a Valentine cake or Valentine pastry for Valentine's Day? Then Toptaarten.nl is the right place for you. Choose your favorite cake or pastry and the right delivery day. When you have ordered your cake on the website of Toptaarten.nl, the best part comes: the delivery! Your personalized cake will be delivered by the local bakery in the morning. In our special Toptaarten.nl cake box, your order will be delivered with a smile. Enjoy your meal!
Order your Valentine cake and pay afterwards
Whether you order a cream cake or a cake with photo for your valentine; in all cases you place your order easily online and choose whether you want to pay immediately or rather afterwards. Do you have special wishes? Then be sure to let us know. We are happy to make you a customized quote, so you know exactly where you stand when you order a valentine's cake. You can reach us by calling 088 110 8060 or by filling in the contact form. It's our pleasure to help you!
Read more