Delivered in the morning

Fresh from the best local bakers

Top quality for a fair price

Buy now pay afterwards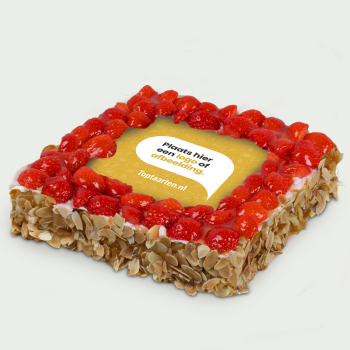 Available from May 2024
Order
Ordering Strawberry Pie
Strawberry pie can be eaten at any time of the year, but it is especially popular during the summer months when strawberries are in season. Strawberry pie is also a common choice for special occasions such as birthdays, weddings and anniversaries.
In some cultures, strawberry pie is associated with certain holidays or events. For example, in the United States strawberry pie is often eaten on Independence Day (July 4), while in France strawberry pie is often associated with the beginning of summer and the celebration of the Fête de la Musique on June 21.
Fresh strawberry pies can be ordered at Toptaarten.nl
Do you love strawberries too? Ordering a strawberry pie is always a good idea, but we'll give you some more reasons to order your strawberry pie right now:
Taste: strawberry pie is generally sweet and flavorful, with a rich texture and a delicious combination of flavors. People who love sweet treats can consider eating strawberry pie a treat.
Occasion: strawberry pies are often associated with special occasions such as birthdays, weddings and anniversaries. People may see eating strawberry pie as a way to celebrate a special occasion.
Nutritional value: strawberries are rich in nutrients such as vitamin C, fiber and antioxidants. So eating strawberry pie is not such a bad idea! Such a freshly made strawberry cake from the bakery always tastes good.
Comfort food: for some people, eating strawberry pie can be a comforting experience. It can bring back memories of past moments, such as a happy childhood or a special event. Did you recently celebrate a birthday with your friends or family over a strawberry shortcake? Then this is a good time to reminisce.
In short, there are several reasons why strawberry pie is a good choice to order, including taste, occasion, nutritional value and comfort.
Fresh strawberry pie made by the baker
Nothing beats fresh strawberry pastry made by the baker. Does it also make your mouth water when you think of delicious strawberry pastries in the form of a strawberry cake, strawberry slipper or strawberry shells? Then simply and quickly order your strawberry pastries at Toptaarten.nl and the baker will get to work for you. Eating strawberry pie really becomes a party when you share it together. For example, we have strawberry pies for up to 30 people. And do you want a strawberry cake for a special occasion? Then order your strawberry cake with whipped cream and a personalized photo. That's guaranteed to be a party to eat.
Read more